EHF Pilates is a boutique therapeutic studio offering state-of-the-art apparatus and qualified trainers to help you move, feel and look better
See us on NBC News! Click on the image…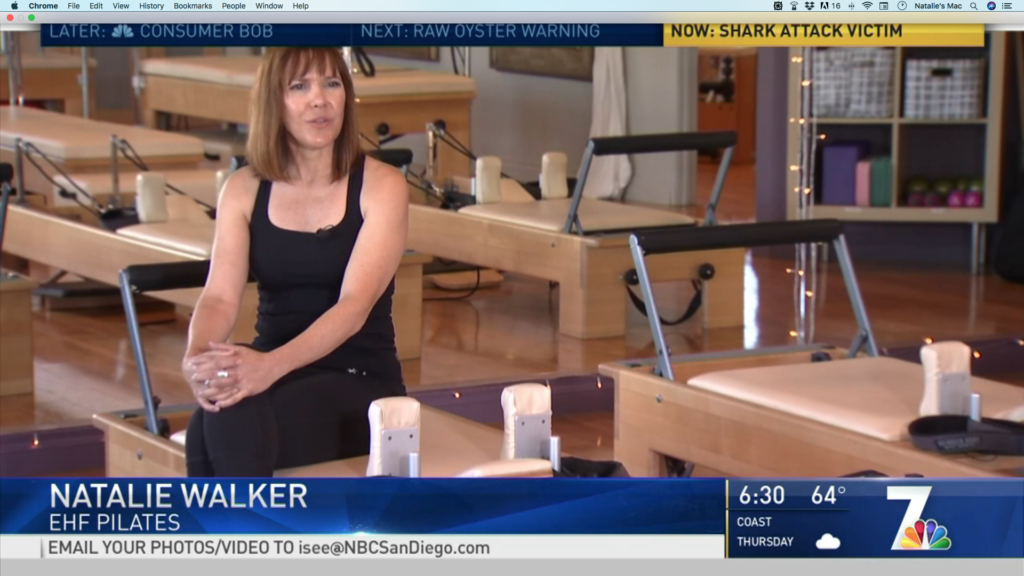 Our boutique Pilates studio will align, stretch, and strengthen your body to improve posture, increase mobility and enhance your overall physique. Private, Semi-private and small group sessions are available by appointment. Join us for a complimentary small group session on the 2nd  Monday of each month at 12:30 PM. Our intro to Pilates workshop teaches safety on the reformer, beginning exercises and how to use the apparatus to empower your body to become healthier and more stable. Register here... Only 5 spots available.
EHF Pilates offers a Cutting Edge Approach to Pilates Teacher Training facilitating a contemporary approach to the method developed by Joseph Pilates in the 1920s designed by Pilates Sports Center; one that preserves the essence of the original technique but incorporates today's knowledge and principles. Small class sizes with personalized attention and anatomy lessons are provided by Master Trainer Natalie Walker in Carlsbad, CA 760-271-4597 (call or text).
Students will learn the Classical and Progressive approach to Pilates all in one program using a beautiful, organized photographic manual. Our instructors are successful, sought after and return to us for continued workshops year after year.
760-271-4597 Call or Text for more info

2020 Course Schedule
Fundamentals 8 hour / 2 day required course.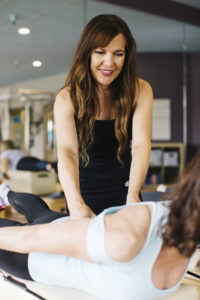 Start Up Program / Fundamentals Jan. 28 & 30
Mat Feb. 4, 6, 11, 13, 18, 20
Reformer Feb. 25, 27, March 3, 5, 10, 12, 17, 19, 24, 26, 31, April 2
Trap Table April 7, 9, 14, 16, 21, 23
Chair April 28, 30  May 5, 7
Review and written Exam May 19

Practical Exam May 21
Pilates teacher training courses are all held T/TH 12:30- 4:30 pm – $5,200 all-inclusive program.
Secure your place in the 2020 program, place a deposit online to secure your seat today, call or text us at 760-271-4597 with questions!
Modular program available – pay as you attend
 Private Courses: 

$8,700  – (Deposit of $500) – 

flexible schedule, course days and times scheduled with student and MT.

 Modular options

$100 deposit each module required at least 1 week prior to the first day of the module. Fundamentals required for all.

Payment for individual or modular courses are as follows:

Fundamentals  1 week – $300 (min. 2 weeks prior) Enroll here
Contact Natalie at natalie@ehfpilates.com for more info!
760-271-4597 Call or Text
Please review our Program Terms & Conditions prior to submitting your application.
©2010 Enhanced Health & Fitness Pilates | EHF Pilates | All Rights Reserved.
EHF Pilates is a Pilates teacher training studio
Serving San Diego's North County in Carlsbad, CA 92011
Phone: 760.271.4597
Serving: Oceanside | Carlsbad | Encinitas | Leucadia | Cardiff | Solana Beach | San Diego, CA