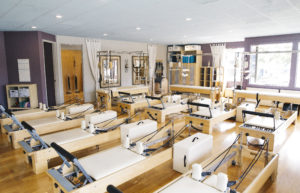 Studio Rental:
EHF Pilates offers seasoned teachers a daily, weekly or monthly rental option in a beautiful, upscale, State-of-the-art boutique studio. Rent based training fees depend on the frequency and duration trainers will need access to the studio in addition to the number of clients being trained in the studio at any one time period. NCPT® certification, copy of original comprehensive teacher training certificate of completion, current CPR certification and general liability insurance is required of any teacher seeking this option. Limited access to the studio may apply at specific times due to teacher training classes, workshops and current group classes for existing studio clients, however some apparatus will still be available during these times.
If you have an existing client base and wish to work as your own business entity, accepting payments, bookkeeping, determining price points, scheduling and servicing your clients, please e-mail your resume to info@ehfpilates.com and include "Rent based Trainer inquiry" in the title.
©2010 Enhanced Health & Fitness Pilates | EHF Pilates | All Rights Reserved.
EHF Pilates is a Pilates teacher training studio
Serving San Diego's North County in Carlsbad, CA 92011
Phone: 760.271.4597
Serving: Oceanside | Carlsbad | Encinitas | Leucadia | Cardiff | Solana Beach | San Diego