Employee based training opportunities:
Our growing studio is interested in employing quality trainers with an excellent understanding of anatomy, Pilates exercises, modifications, variations and the ability to work with all clients levels.  EHF Pilates offers newer trainers (with proof of completion of a quality Pilates Teacher Training apprenticeship) a part-time base wage plus commissions in addition to one quality teacher training workshop annually and paid time off. Duties, in addition to training, scheduling and servicing clients in the studio, include light administration, social media savvy, cleaning and the ability to lead and teach sessions and classes to existing clients as well as training new clients and introducing them to the method.
Quality candidates must have a positive attitude, excellent customer service skills, proficiency in anatomy and kinesiology, understanding of injuries with contraindications and cautions as well as how to modify exercises based on specific client needs. PMA® certification is preferred however we will work with and mentor the right candidate to sit for and pass the PMA® Exam.  Willingness to work evenings and some weekends as well as other duties are required.
If you feel you are the right candidate, please e-mail your resume to info@ehfpilates.com for further review.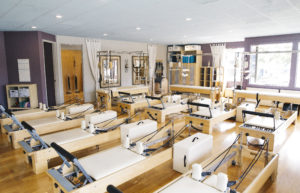 Rent a Reformer:
EHF Pilates offers seasoned trainers a daily, weekly or monthly rental option in a beautiful, upscale, State-of-the-art boutique studio. Rent based training fees depend on the frequency and duration trainers will need access to the studio in addition to the number of clients being trained in the studio at any one time period. PMA® certification, copy of original comprehensive teacher training certificate of completion, current CPR certification and general liability insurance is required of any trainer seeking this option. Limited access to the studio may apply at specific times due to teacher training classes, workshops and current group classes for existing studio clients, however some apparatus will still be available during these times.
If you have an existing client base and wish to work as your own entity, accepting payments, bookkeeping, determining price points, scheduling and servicing your clients, please e-mail your resume to info@ehfpilates.com and include "Rent based Trainer inquiry" in the title.
©2010 Enhanced Health & Fitness Pilates | EHF Pilates | All Rights Reserved.
EHF Pilates is a Pilates teacher training studio
Serving San Diego's North County in Carlsbad, CA 92011
Phone: 760.271.4597
Serving: Oceanside | Carlsbad | Encinitas | Leucadia | Cardiff | Solana Beach | San Diego