We've moved – EHF Pilates is NOW located at 6120 Paseo Del Norte Ste H-1
 Just South of Pacific Sales and Tip Top Meats.
Call us at 760-271-4597 or e-mail info@ehfpilates.com for more info.
Training is available M-Th from 7:30 am – 7:30 pm F-Sat 8am – 2pm by appointment only or as scheduled for classes.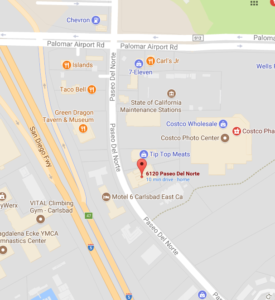 Directions:
North of Palomar: Take I-5 South exit Palomar Airport Road East (away from the ocean). Turn right on Paseo Del Norte and left into the center. We are in the North-West corner (facing the street) across from Tip Top Meats.
South of Poinsettia: Take I-5 North exit Poinsettia East. Take an immediate Left turn onto Paseo Del Norte. Drive apporx. 1.5 miles and turn right into the center (just past or North of) Discovery Isle children's school.