1 WEEK FREE Virtual Mat Pilates 
Log into our app on
MindBodyOnline
to register for the cl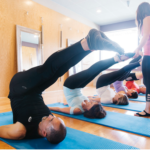 asses. Your receipt will have the meeting ID# necessary to join the classes for the week on Zoom. Please download
Zoom
to the device you would like to use for classes and join us! Find our Virtual
Mat class offerings here
.
 OR One Complimentary Virtual Private Session 

Private Session Details: Whether you have a Reformer, home gym, free weights or gravity, We am happy to design a private program for you virtually. With over 2 decades in the industry in many realms of fitness, Natalie will work with your specific needs in mind. We offer virtual sessions on Zoom, Skype or FaceTime with a discount for Venmo and PayPal cash payments. Send an email to
Natalie
 to inquire.
Stay healthy and safe, we look forward to seeing you again in person and virtually for now!
Limit one special per client. Please have any equipment you would like to use available when the session begins. For Private sessions we will begin by discussing what you have to work with and your specific goals ang then get you moving.
©2010 Enhanced Health & Fitness Pilates | EHF Pilates | All Rights Reserved.
EHF Pilates is a Pilates teacher training studio
Serving San Diego's North County in Carlsbad, CA 92011
Phone: 760.271.4597
Serving: Oceanside | Carlsbad | Encinitas | Leucadia | Cardiff | Solana Beach | San Diego