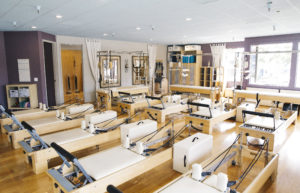 Payment for individual or modular courses are as follows:
Fundamentals  1 week – $300 (min. 2 weeks prior) Enroll here
Our Modular course fees total $5,500 for the complete program.  If you intend to receive your comprehensive certificate the comprehensive program course at $5,200 is more cost-effective. If you are interested in only one course the modular option is best.
EHF Pilates offers a 3 installment plan for the comprehensive program, split into 3 payments. ($100 additional processing fee applies so the total cost will be – $5,300) Enroll here
A deposit of $500, signed and completed application and acceptance into the program is required 2 week prior to the first day of class to qualify for our payment plan and to receive your manual on the first day of class. Discounts may apply when deposit and application are completed and received 45 days or more in advance.
First installment due on the first day of classes. $1600
Second installment due on week 4. $1600
Final installment due on week 8. $1600 ( – $200 + 6 free class discount if deposit is received 45 days prior to the first class).
Visit We Finance for financing options
Or pay with your Visa or Mastercard, check or cash for the comprehensive course at $5200 (– your $500 deposit due on the first day of class.)
©2010 Enhanced Health & Fitness Pilates | EHF Pilates | All Rights Reserved.
EHF Pilates is a Pilates teacher training studio
Serving San Diego's North County in Carlsbad, CA 92011
Phone: 760.271.4597
Serving: Oceanside | Carlsbad | Encinitas | Leucadia | Cardiff | Solana Beach | San Diego