Our next comprehensive course starts January 2020 at EHF Pilates Studio
This is the Cutting Edge Approach to Pilates Teacher Training. PSC teaches a contemporary approach to the method developed by Joseph Pilates in the 1920s; one that preserves the essence of the original technique but incorporates today's knowledge and principles. Small class sizes and high contact hours with review and anatomy provided at EHF Pilates in Carlsbad, CA 760-271-4597 (call or text).
Students will learn the Classical and Progressive approach to Pilates all in one program using a beautiful, organized photographic manual. Our instructors are successful, sought after and return to us for continued workshops year after year. Upon completion of your Pilates Teacher Training program, you will be prepared to take the PMA Pilates Certification™ exam if you desire.
760-271-4597 Call or Text for more info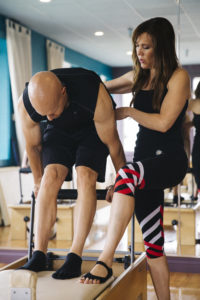 2019 Course Schedule
Fundamentals 8 hour / 2 day required course.
Start Up Program / Fundamentals Jan. 29 & 31
Mat Feb. 5, 7, 12, 14, 19, 21
Reformer Feb. 26, 28, March 5, 7, 12, 14, 19, 21, 26, 28, April 2, 4
Trap Table April 9, 11, 16, 18, 23, 25
Chair April 30 May 2, 7, 9
Review and written Exam May 21
completion of all modules is required for graduate's eligibility to apply for the Certification Exam with the Pilates Method Alliance™. Classes are held T/TH 12:30- 4:30 pm. $5,200 all-inclusive comprehensive program register here or place your $500 deposit here for the complete course. You may also pay per module click here for more info

What does this all-inclusive 450+ hour course offer? Show me more!
Contact Natalie natalie@ehfpilates.com for more info
Learn about paying per module here
Full Course: (Deposit of $500) $5,200.00 minus deposit for the full program.
SAVE $200 & get 6 FREE classes on the full program when registering prior to 45 days in advance.
OR Save $100 & get 3 FREE classes when registering 30 days in advance.
Deposit and application must be received and approved no later than the above 45 days prior to apply for the discount which will be applied to the full payment or final installment.
Need Financing? Check out "We Finance"
1) Students create a listing (tell your story and pick your own interest rates)
2) Get endorsements and/or pledges from friends/family
3) Lenders on We Finance will lend to you if you have a good interest rate, a good story, and/or good endorsements
4) You receive the money in full to use for our program
A deposit of $500, pay your deposit here – signed and completed application and acceptance into the program is required 2 week prior to the start of the program to qualify for our payment plan and to receive your book on the first day of class.
©2010 Enhanced Health & Fitness Pilates | EHF Pilates | All Rights Reserved.
EHF Pilates is a Pilates teacher training studio
Serving San Diego's North County in Carlsbad, CA 92011
Phone: 760.271.4597
Serving: Oceanside | Carlsbad | Encinitas | Leucadia | Cardiff | Solana Beach | San Diego, CA