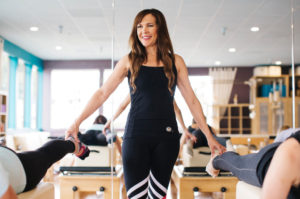 Natalie Walker, B.A. S.D.S.U. –  Owner and PSC Master Trainer PMA®CPT
In 1988, Natalie suffered a severe knee injury (shattering her patella) and was told by her physician that she would never run or jump again as the skeletal damage was too great. After years of living a sedentary lifestyle, she decided to empower her life with education in kinesiology and exercise physiology. Natalie was determined to move with less pain and better results.
Natalie began teaching popular group exercise formats like Step, Body Pump and Spinning and became a Certified Personal Trainer in the late 1990's. Despite her education and awareness of exercise movement, the excessive pounding aerobics and weight training caused left her searching for a fitness routine that would keep her fit for life without exacerbating her injury. From her first private session, she knew Pilates would sustain her fitness level, without causing greater problems to her joints.
Soon after she completed the Pilates apprenticeship, Natalie returned to school to enter the Doctorate of Physical Therapy Program at L.L.U. However, while completing her observation hours at Scripps Hospital, Encinitas CA (P.T. department), she realized how beneficial Pilates can be for those with injuries and decided to pursue a career in Pilates instead. Around this time Natalie injured her lumbar disc in a motocross accident and used the Pilates method along with her knowledge of P.T. (and what the Physical Therapists recommended during her observation hours) to bring her body back to a state that would allow her to move intelligently as to not aggravate her injury and keep her strong and agile.
Natalie has worked with a vast array of individuals, many with severe physical limitations and has become very intuitive in aiding the rehabilitation process, increasing balance and strength and reducing pain in clients ranging from 12 to 88 years old. Natalie received her mat work certification through the Physical Mind Institute in February of 2002, completed her comprehensive teacher training course from Long Beach Dance Conditioning (LBDC) a year later and is a PMA®Certified Pilates Teacher. She continues to further her education at the university level.  In addition to attending workshops in the fields of Pilates and rehabilitation Natalie is a Master Trainer for Pilates Sports Center and is proud to be a registered school with the PMA®.  In her fun time Natalie is an avid cyclist with Swami's Cycling / Team Fun – Men and Women's cycling club in Carlsbad. She includes regular Pilates to complement her bicycle commute to the office and long weekend rides for a fit, flexible and healthy body!
James Walters – B.S. British National Diploma, 
PMA®CPT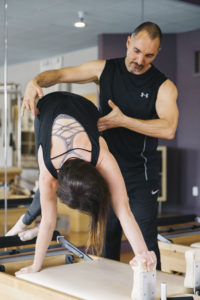 James has always been passionate about health/fitness and has worked in the industry for nearly 30 decades. From the time he was young he started Bodybuilding and realized the benefits of having a focused mindset and strong physique. In his early twenties he was starting to feel stuck, stiff and mechanical. Not knowing at the time he was reinforcing negative/unnatural movement patterns through weightlifting.
In his mid twenties he managed a prestigious corporate fitness center in central London but unfortunately his muscle guarding and spasms were so intense that he felt like the Tin Man from the Wizard of Oz! At this point he was exploring holistic/alternative medicine. His first therapeutic breakthrough was Reflexology and The Alexander Technique. During that time he read a newspaper article about the All Blacks the New Zealand national rugby team and how they were utilizing the Pilates Method in their training regime. He had an aha moment as was completely committed to learning Pilates from then on.
He formally trained with Body Control Pilates in London and certified in mat Pilates in 2001. Later that year James emigrated from the U.K. to the USA. He was fortunate to live in Miami and discover Polestar Pilates. Dr Brent Anderson was happy to take James under his wing as an apprentice and teach him so much about not only Pilates but post Rehab and P.T. adaptations within the Pilates method. He enjoyed working with private clients as well as teaching classes to a variety of clients. After 14 years working at Polestar James moved to Carlsbad, CA with his wife Penny and his young son Luke. He is excited to be teaching Pilates on the west coast  and is eager to offer his expertise to our clients at EHF Pilates. James holds many fitness exercise certificates including Personal Training and the Pilates Method Alliance certification. James is very active in his son's life and has limited availability until Luke starts 1st grade. Please inquire as to his availability as it is variable.
Amy Beadle – Student Trainer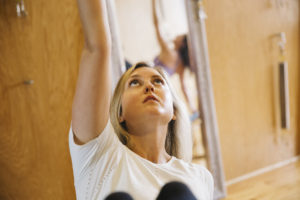 Amy Beadle moved here recently from Minneapolis. She loves being active, especially outdoors. Growing up, Amy tried about every sport imaginable, but really took to golf, and played competitively for a number of years… she loves being able to golf year-round in this wonderful California weather! Amy studied anthropology at Northwestern University, where she first discovered Mat Pilates at her college gym. "I remember quickly falling in love with it." When Amy started struggling with a number of challenges in both mental and physical health, she recognized how important exercise was in her life.
Amy remembers so often felling exhaustion and in pain after the workouts she had been doing yet when practicing Pilates she not only felt so much better she stronger than ever, and engaged in the mind-body component which was lacking in other fitness regimes. Amy's love of Pilates prompted her to go even deeper into the work, which is what brought her to teacher training. "I am very excited to begin connecting with people through Pilates as I begin my graduate studies to becoming a psychologist."
Brigitte Benoist – Student Trainer
Brigitte was born and raised in France where she studied ballet, jazz and modern dance. After immigrating to the United States her interests shifted and she pursued studies in different fields. Brigitte holds a bachelor's degree in business management from the University of Maryland and a Master's degree in counseling from the University of San Diego. She worked for over 20 years in higher education and decided to retire early.
Brigitte started Pilates over a year ago and fell in love with the discipline instantly. "It helped me with my lower back pain and gave me physical strength." It is the mind-body connection that resonated with Brigitte and she felt Pilates brought her back to her roots as a dancer. This will be a second career for Brigitte, and she can't wait to share her passion and knowledge with clients.
Jenna discovered Pilates several years ago as a way to help balance an extremely sedentary, but much-loved career in cancer genetics. After years of self practice in Pilates, Jenna noted a great improvement in her posture, increased flexibility and strength. "I love the body awareness that Pilates has brought to me."
Jenna is excited to teach others in the Pilates method and share her love of the movement to enhance others lives as well. Jenna graduated with a BS in Biology and a BA in Anthropology from the University of North Dakota.  After college she attended a 1 year post-graduate program in Cytogenetics at Mayo Clinic.  In her free time Jenna enjoys staying active with hiking and spinning but is also a big fan of naps, craft projects, planning her next vacation and most recently binge watching "The Great British Bake Off".
Lindsay Benton – Student Trainer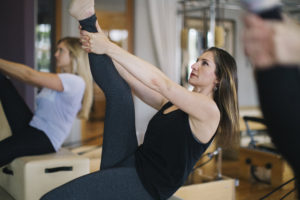 Lindsay came to us from New York and has 15 years of experience practicing Pilates.  Sports injuries and pursuing optimal athletic conditioning combined with a high-stress corporate desk job, that created imbalances and promoted poor posture, inspired Lindsay to pursue her Pilates Teaching Certification to enhance her knowledge of the benefits of Pilates.
Lindsay has her MBA from Northeastern University, was a collegiate swimmer, she is an active member of the National Ski Patrol, an avid telemarking skier and yacht racer competing regularly.  Lindsay's interest lies in injury recovery, athletic conditioning, posture assessment and applying specific exercises to align with the client's goals.